9-1





8-2


1-9
9/29/10

PADILLA
The
Los Angeles BLUE bombers
placed P
Bernie Padilla
on the 60 day DL with an elbow injury. He will have reconstructive surgery, and he is done for the season. Padilla was a Rule 5 Draftee, and went 5-5 with a 4.80 ERA before the injury.

PARKER
The
Pawtucket Fire Cats
signed FA SS
Alex Parker
to a ML contract. Parker, known as a defensive specialist, last played for Monterrey's AAA team, batting .156 in 13 games.
---
9/30/10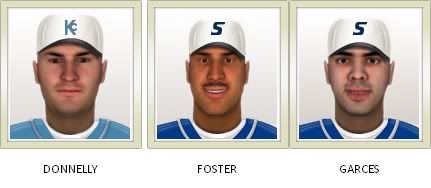 The
Kansas City
/
Salem
trade was finalized, sending prospect
R.A. Donnelly
to Kansas City. Salem receives ML P
Freddie Foster
and AAA P
Al Garces
in return.

The trade sending
Mario Tallet
to the
Oklahoma City Redhawks
was finalized. Going to the
Santa Cruz Sequoias
was ML P
P.J. Servais
, AA P
Hal Perez
, and AAA P
Fritz Olson
.

KNIGHT
The
Philadelphia Cheese Steaks
have signed P
Lewis Knight
to a contract extension. The contract is believed to be for 2 years, $11.8M.
---
10/2/10

TARRAGA
The
Pawtucket Fire Cats
got a huge offensive boost with the return of
Edgard Tarraga
. Tarraga was activated from the 15 day DL.

POSADA
The
Las Vegas Vegan Vampires
placed P
Oswaldo Posada
on the 60 day DL with a ligament tear in his shoulder. Posada had gone 4-9 with a 5.61 ERA so far in S9.
---
10/3/10

GUERRERO
The
St. Louis Soul
have released P
Vasco Guerrero
. Guerrero went 1-2 with a 9.37 ERA in 7 games for the Soul. Guerrero is officially a free agent to sign with any club.
---
10/4/10

WILLOUGHBY
The
Trenton Jokers
have activated 3B
Tom Willoughby
from the 15 day DL. Willoughby was placed on the DL back on 9/27 with a strained neck.

BROWN
The
Chicago Rooftops
have designated P
Pat Brown
for assignment. Brown went 1-0 with a 6.21 ERA in 28 games this season. Brown is currently on waivers, free to be claimed by any team.

LEWIS
The
Milwaukee Naturals
have activated LF
Flash Lewis
from the 15 day DL. Lewis was added to the DL back on 9/27 with a hamstring pull.