DAMON HILL
The Rochester Mountain Dwellers promoted SP
Damon Hill
today from AAA. Hill went 15-7 with a 4.12 ERA last season for their AAA team. Hill was not part of their spring training squad, but Rochester management must be confident in Hill's talent to promote him. There's a chance that he could land a spot in Rochester's starting rotation.
CHARLIE HILL
In a very bold move, the Boston Stricken Gods promoted
Charlie Hill
from their High A farm club. Hill was a 2nd round pick back in S5, and last year went 3-3 with a 3.15 ERA with 3 saves in 3 opportunities. In spring training this season, he appeared in 3 games, registering 2.1 IP. He gave up 0 ER and 2 hits, with only 1 walk. Hill appears to have a bullpen spot on the ML team.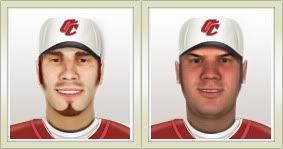 DONN OVERBAY ................... VIN HALLMAN
The Oklahoma City Redhawks today promoted P
Donn Overbay
and 3B
Vin Hallman
from their AAA team. It appears Overbay has won a spot in the bullpen as a LR, while Hallman could very well be their starting 3B on opening day.
JAVIER MARQUEZ
The Austin Bats today hit the IFA market by signing
Javier Marquez
to a contract. It is a minor league deal with an invite to spring training next season, and it includes a very modest 9.8M bonus. Marquez is an everyday SS with excellent fielding skills. He has a strong arm and nice speed. He excels on the basepaths and bunts extremely well. Could be a solid leadoff man. Marquez will report to Low A once he arrives at the club.